HOME INSPECTIONS
FOR BUYERS & SELLERS
GUARANTEED HOME INSPECTIONS
INSPECTIONS SO GOOD – THEY'RE GUARANTEED!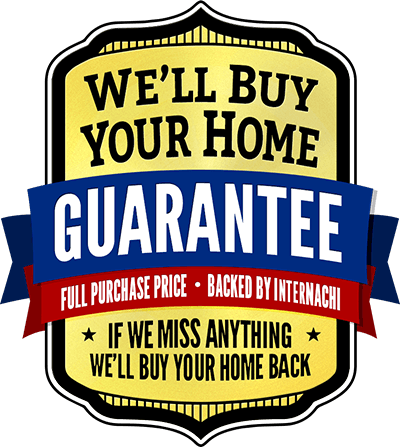 BUYING OR SELLING A HOME?
CONTACT US TO PROVIDE A COMPLETE HOME INSPECTION
We provide thorough and comprehensive home inspections for buyers and sellers just like you. From the roof to the foundation, we have your best interests in mind and work hard to find every issue possible. With years of industry experience and the best qualifications in the home inspection industry, we are confident that we provide the best home inspections in Bremerton and the Kitsap County area!
BUYER INSPECTIONS
Our buyer's home inspections are completely comprehensive and incredibly thorough.
SELLER INSPECTIONS
Buyers need somebody they can trust. Show them that you are dealing in good faith.
RE-INSPECTIONS
Repairs made after an inspection? Have us back to check them.
RENTAL INSPECTIONS
Are you a landlord? Then have us regularly inspect your properties.
MAINTENANCE INSPECTIONS
Keep your home in tip-top shape with a regular home maintenance inspection.
11TH MONTH INSPECTIONS
Before your builder's 12-month warranty expires, have us fully inspect your home.
THERMAL IMAGING
We see what other inspectors can't using infrared camera equipment.
SEWER SCOPES
Finding issues in your main sewer line before they become serious.
SINGLE ITEM INSPECTIONS
Get just one item inspected instead of the entire home and systems.
HUD CERTIFICATIONS
Standard HUD Foundation Certifications, Addition Certifications, and 1st Permanent Location
OUR INSPECTIONS
WHAT'S INCLUDED
Whether the house you're buying is big or small, new or old, we can help you understand its condition and how the systems operate.
With our advanced inspection standards, we inspect hundreds of items on your home inspection and take into account thousands of scenarios and issues. Below are just some of the basics of what we inspect:
Interior and exterior of the home
Basement, attic, and crawlspace
Foundation, framing, and the entire structure
Plumbing, heating, cooling, & electrical
Roof, decks, porches, patios, & grading
Doors, windows, living spaces, & much more!
We give you WAY more than just a home inspection – you get the area's premier inspector with years of experience and the highest qualifications.
We provide MFD foundation certifications for manufactured homes to meet federal requirements when buying/selling a manufactured home. These are standard HUD foundation certifications, addition certifications, and 1st permanent location.
We work in conjunction with the engineering firm that produces the proper certificate for your manufactured home. Click the image to schedule your MFC foundation certification.
THERMAL IMAGING
INFRARED SCANS
There are some issues that can only be found with specialized equipment, such as thermal imaging. And then it requires a special skill set and a great deal of training to interpret them properly.
Find these hidden issues by hiring us to perform a professional thermal scan of your property. Don't wonder what is going on – find out with an infrared inspection of your property.
MAIN SEWER LINE SCOPES
VIDEO CAPTURE
A sewer scope is one of the most important inspection types that you can get as a new home buyer, or even if you already own a home. 
A main sewer line failure is one of the most common issues to occur after purchasing and moving into a new home. Since your main sewer line is buried and outside the scope of a standard WA State home inspection, it becomes even more of an issue.
That is why we offer our clients a complete video sewer scope. We are able to find these hidden issues, and use our location equipment to find their approximate location underground (saving you time, money, and digging to find the exact location of those issues).
Be sure to schedule a video sewer scope today!
MODERN INSPECTION REPORTS
EASY-TO-READ
We take our time thoroughly evaluating all aspects of the home you are purchasing, from the roof to the foundation and all areas in between. We provide the most advanced home inspections on the market and the most detailed reports possible.
Our reports are delivered to you in electronic format. Our reports come complete with pictures and descriptions that make negotiations and repairs easy.
We invite you to go through the house with us so that we may inform you of any issues or concerns, discuss "how things work", highlighting all the positive features, and also share with you what needs to be maintained and why.
BUYERS
PRE-PURCHASE INSPECTIONS
Our home inspections provide you with the information you need to make an informed decision about the property you are buying. This is done in a clear, concise, and professional manner. We deliver a detailed, electronic report to all customers following the home inspection. See why homebuyers just like you have chosen us for their home inspection needs.
SELLERS
PRE-LISTING INSPECTIONS
Whether you are selling your home on your own or using a realtor, it's always a wise idea to have a professional home inspection. A pre-listing home inspection is one of the best ways for a homeowner to ensure that their home is ready to sell and in good condition. Our inspections will help your home sell faster and the sale go smoother.
SERVING ALL OF KITSAP COUNTY, WA
BREMERTON HOME INSPECTIONS